The 2021 whale watching season is in full swing on the Sunshine Coast, with more than 35,000 humpback whales expected to migrate north through the region's clear waters this winter.
The Sunshine Coast is home to some of Australia's premier whale watching experiences, and was the first destination in Australia to offer a swim with humpback whales encounter.
This year, the region's rich offerings have expanded to include a cultural whale watching tour, run collaboratively between local businesses Saltwater Eco Tours and Adventure Rafting.
Discover this, and more, on a whale watching adventure this winter on the Sunshine Coast!
Cultural Whale Watching Experience
Since its launch in mid-2020 Saltwater Eco Tours has focused on sharing the stories, traditions and culture of the traditional owners of the Sunshine Coast – the Kabi Kabi people.
This winter, they are continuing to connect people with place with a new Cultural Whale Watching tour, departing Mooloolaba.
The two-hour experience is led by Indigenous guide Aunty Bridgette Chilli who shares cultural songs, ancient stories and deep connection to these majestic ocean dwellers as they migrate through Sunshine Coast waters.
The experience is run collaboratively with local business Adventure Rafting on board their vessel specially equipped with HD underwater cameras and an underwater hydrophone to live stream the whales as they play and sing.
This intimate tour takes a maximum group of 20, and prices start from $99. More here: saltwaterecotours.com.au/culturalwhalewatching.
Swim with Humpback Whales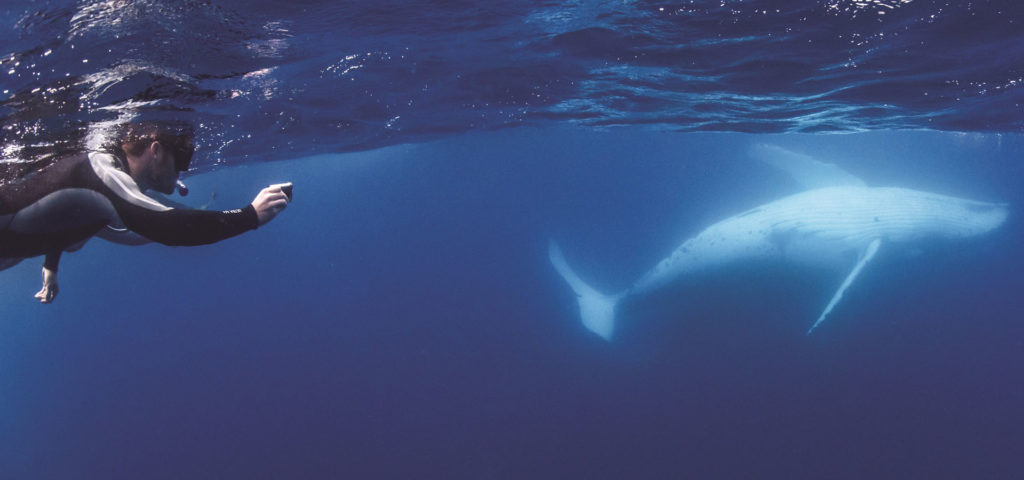 There are very few opportunities in life where you can come face-to-face with a humpback whale.
But in the waters off the Sunshine Coast you can do just that, with Sunreef Mooloolaba offering Australia's first swim with humpback whales experience.
This 'life-changing' encounter operates during the winter months, taking swimmers offshore where at a safe distance from these gentle giants, they enter the water holding onto a floating line.
What happens next is 100 per cent on the whales' own terms, but one thing is certain, it is an experience you will never forget.
Sunreef Mooloolaba offer the swim with whales experience from July to mid-October. Prices are $195 per person, more here sunreef.com.au/whales/swim-with-whales/.
Whale Watching with a Difference
Living in such a pristine natural environment comes with a certain responsibility, and many of the Sunshine Coast's whale watching operators are focused on much more than simply spotting these majestic mammals in their natural environment.
Sunshine Coast Afloat and Sunreef Mooloolaba both offer space on board their vessels for whale researchers to observe humpback whales and collect data, and are happy to share their knowledge with any passengers on board at the time.
Sunshine Coast Afloat operate whale watching tours from July through to late October and ensure you don't miss out on the action with their intimate, uncrowded cruises guaranteeing you rail-side viewing.
With the whales migrating through Sunshine Coast waters to breed it's not uncommon to spot a mother whale and her calf swimming past, making it an unforgettable experience.
Prices with Sunshine Coast Afloat are $99 for adults, visit sunshinecoastafloat.com.au.
Looking to turn your whale experience into a Sunshine Coast adventure? For trip ideas and access to deals go to visitsunshinecoast.com.