The Sunshine Coast's climate and natural assets helped win the region hosting rights for cycling – road and mountain-bike – for the 2032 Olympic and Paralympic Games.
But as Visit Sunshine Coast's (VSC) new campaign – Ride the 5 – so rightly highlights, you don't have to be an Olympian to enjoy a two-wheel adventure on the Sunshine Coast.
Ride the 5 encourages visitors to hop on their bike and discover the Sunshine Coast's twisting mountain bike trails, taking you from the bush to beach across quiet stream crossings, lush fern gullies and pedalling through towering rainforest.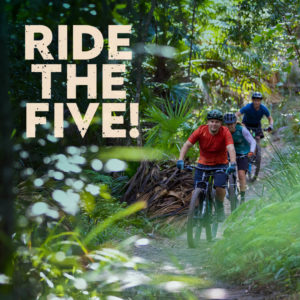 The multi-channel campaign will profile the region's five major mountain biking trails: Tewantin National Park MTB Trails, Sugar Bag Rd Caloundra MTB Trails, the proposed Olympic venue Parklands in the Hinterland, Ewen Maddock Dam Ferny Forest MTB Loop and Mapleton National Park Shared Use Trails.
Visit Sunshine Coast CEO Matt Stoeckel said mountain biking presented a strong opportunity for Sunshine Coast tourism, especially in the lead-up to the Olympic Games.
"What sets us apart as a mountain biking destination is the diversity of our trails – both geographically and in skill level – and how close these trails are to other major attractions, eateries and accommodation on the Sunshine Coast," Mr Stoeckel said.
"We have trails to suit everyone from beginners to experienced riders, and all our courses in Ride the 5 are easily accessible, meaning you can be biking down a mountain one minute and downing a craft beer with your mates the next.
"And winter is the perfect time to visit the Sunshine Coast and Ride the 5 as part of your mid-year escape.
"Getting out and exploring our pristine backyard is always a highlight of a Sunshine Coast holiday, and mountain biking gives visitors another avenue to immerse in nature, breathe in fresh air and soak up the picturesque landscapes.
"And while you don't need to be an Olympian to Ride the 5, you'll deserve a gold medal if you manage to take them all on!"
The Ride the 5 campaign will be rolled out across digital platforms and includes a suite of video and social media assets.
A dedicated landing page will also share a range of mountain biking itineraries for beginners up to more experienced riders, including trail maps, where you can rent a bike during your stay and available tours.
For more on the Sunshine Coast's mountain bike offerings, go to visitsunshinecoast.com/mountain-biking.