Business Events Sunshine Coast (BESC), were joined by 14 Sunshine Coast business event operators to showcase their conference and incentive products and services to some 35 Brisbane conference and event organisers.
An annual event and now in its sixth year, 'Sunshine Soiree' provides a forum for local operators to meet with event planners who work for Brisbane-based corporations including MCI Australia, Sunsuper, Chartered Accountants ANZ, Event Associates, Holcim Australia, Association of Executive Assistants, The Royal Australian College of General Practitioners, Engineers Australia, cievents and ICMS Australasia; all of which hold numerous annual events.
Held in partnership with Spicers Retreats that boast two properties located on the Sunshine Coast – Spicers Clovelly Estate and Spicers Tamarind Retreat, the networking event was held at Spicers Balfour Hotel and themed 'Talk Feast.' The day was all about showcasing the bespoke food experiences available in the region for conference and incentive groups and also highlighting the Sunshine Coast's vibrant food and dining scene. The specially designed menu featured Sunshine Coast local produce by Spicers Clovelly Estate chef, Cameron Matthews.
Simon Latchford, CEO of Visit Sunshine Coast said, "The Sunshine Coast offers a diversity of meeting and incentive options, with the added benefit of having our own airport as well as Brisbane Airport, just an hour down the road. It means that we can offer a very accessible destination that is perfect for delegates to wind down, refresh, and get motivated before returning to their busy city lifestyles.
"The Sunshine Coast has a rich range of venues and, including major conference centres and hotels, attractions such as Australia Zoo, Aussie World, and interactive experiences by Live It Tours – ideally suited to conference and event organisers who want something special.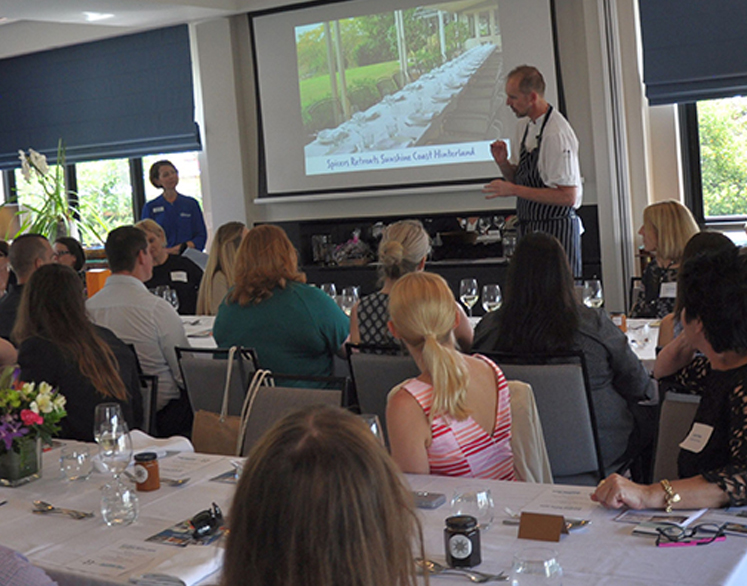 "On top of this, we believe the Sunshine Coast is qualified to own the title of Queensland's leading 'food tourism' destination and initiatives such as 'Sunshine Soiree' work to educate decision makers to be inspired by the region's extensive and diverse product mix and ultimately book business events and incentives," added Mr Latchford.
Manager of BESC, Ms Tiffany Bower said, "We are finding more than ever that conference groups are excited by the region's unique event and incentive capabilities, which can be incorporated pre, post or part of a conference program.
"Staging 'Sunshine Soiree' provides a great opportunity to showcase the Sunshine Coast and connect with influential Brisbane professional conference organisers, in-house conference organisers, senior EAs and PAs in the very important drive conference and incentive market."
Sunshine Coast business events members to attend included Australia Zoo, Aussie World, Kangaroo Bus Lines, Kingfisher Bay Resort, Landmark Resort Mooloolaba, Live it Tours, Peppers Noosa Resort & Villas, Maroochy Surf Club, Novotel Twin Waters Resort, Oaks Oasis Resort, RACV Noosa Resort, Sofitel Noosa Pacific Resort, Spicers Retreats and Best Western Lake Kawana.
Overnight accommodation packages were given away along with gift packs and passes to Sunshine Coast activities and attractions. In addition, each delegate was given a 'Sunshine Soiree' supplier guide featuring one of Cameron's recipes with local strawberries.
BESC is the convention bureau for the Sunshine Coast and a division of VSC, whose responsibility is to market the Sunshine Coast as a viable, attractive and sustainable business events destination. 'Sunshine Soiree' follows the recent launch of BESC's new website highlighting signature incentive experiences – www.businesseventssunshinecoast.com.
-ends-
For media enquiries: Liz Tuckett [email protected] | (07) 5458 8815 | 0417 345 050