Queensland's Sunshine Coast has today launched burst two of the Sunshine Moments For real hero campaign in New South Wales, Victoria and New Zealand.
Visit Sunshine Coast CEO Matt Stoeckel said this is the biggest campaign the destination will run for the year. "The campaign is about reminding our southern neighbours what's so special about a trip to the Sunshine Coast ahead of our quieter times over winter," he said.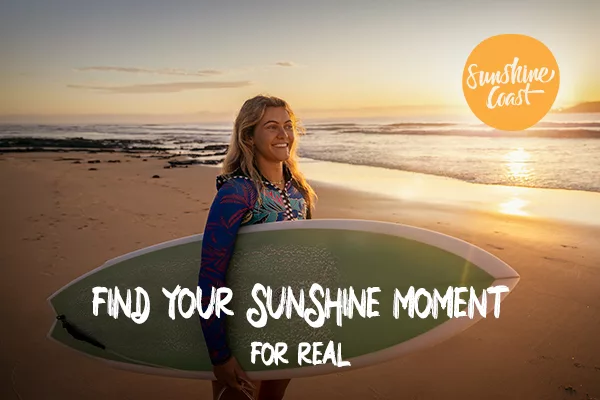 "For those living down south, a trip to the Sunshine Coast over winter is a bit of a no-brainer (where our water temperatures remain higher than what they do in Melbourne's summer).
"However, what really sets us apart is highlighted in the second burst of the 'Find your Sunshine Moment' campaign which shows that on the Sunshine Coast we're both sunny by name and sunny by nature! Put simply, the campaign invites visitors to come and find their Sunshine Moment that will leave them beaming from the inside out," he said.
The campaign will run in the lead up to Air New Zealand recommencing direct seasonal services between Auckland and the Sunshine Coast from 25 June to 15 October, 2023. It also aligns with Australia's newest airline Bonza opening up new routes between the Sunshine Coast and regional New South Wales and Victoria with very affordable airfares.
Visitors can find deals HERE on the Visit Sunshine Coast website which feature a range of packages for a range of budgets. In addition, accommodation providers and tourist operators are offering a raft of incentives including free lunch, bottles of wine and special mid-week rates as part of the Sunshine Moments campaign.
Newport Mooloolaba Apartments is offering special rates for stays between Sunday and Thursday from now until June 17.
Newport Mooloolaba Apartments Manager Ben Sullivan said the campaign was designed to help fill vacancies over the coming winter months.
"Putting forward a compelling deal to be part of this campaign was a no brainer," Mr Sullivan said.
"Campaigns like this not only can do wonders to promoting the Sunshine Coast brand and destination but also drive bookings to our business to put heads on beds," added Mr Sullivan.The multi-channel campaign spanning broadcast video on demand, display media, social, native, print and advertorial will focus on audiences who have flexibility to travel mid-week and outside of school holidays.
The campaign was first launched in October 2022 through a wide range of media and generated over 200K clicks to visitsunshinecoast.com.
The current campaign starts today and will run through to the end of June.
VIEW the campaign (suitable for broadcast use).
A snapshot of deals:
Newport Mooloolaba Midweek special rates
The Sebel Noosa stay 5 nights and save up to 15%
Book a two night stay at the Crocodile Hunter Lodge and enjoy a $100 Warrior lunch
Free bottle of wine if you book a stay at Misty View Cottages in May