Business Events Sunshine Coast (BESC) enjoyed a very productive trip 'across the ditch' for this year's Pacific Area Incentives and Conferences Expo (PAICE), held at SkyCity Convention Centre in Auckland.
Capitalising on strong interest from New Zealand over the last ten months, BESC along with South East Events and Sofitel Noosa Pacific Resort, exhibited at the expo. The trade show was attended by nearly 200 New Zealand buyers and the team received several good leads for business through to 2018.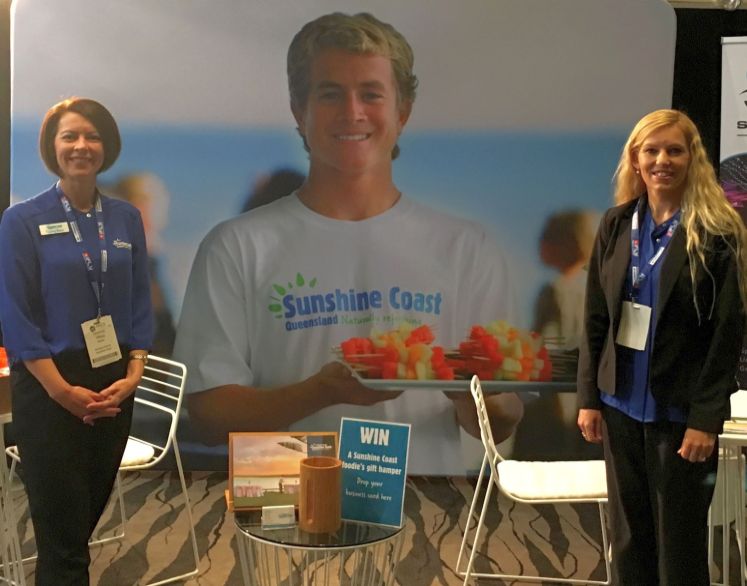 BESC Manager Tiffany Bower said that the New Zealand market was looking good for business events on the Sunshine Coast, with a buoyant economy and consistent flights to Sunshine Coast and Brisbane airports all positive signs for 2017 and beyond.
"On the whole, New Zealand groups are looking for easy access, safe/secure destinations, warm weather and unique experiences of a high standard," said Ms Bower. "The Sunshine Coast can deliver on all of these components and this year we were able to also put the spotlight on our new collection of signature incentive experiences which can be delivered by our local Destination Management Company members (South East Events, Beyond Experiences and Noosa DMC).
"Our new BESC website was also unveiled with the resources and online planning toolkit popular with planners," added Ms Bower.
First time industry trade show attendee, Kelly Cattanach, from South East Events was particularly impressed with the reactions she received from the 200 plus delegates and officials.
"It was great to have the opportunity to showcase South East Events at PAICE this year. I found the buyers were very qualified and had a genuine interest in holding events within Australia. The communication in the lead up to PAICE was extremely good and the show ran seamlessly on the day. I found many buyers had held events previously at the Gold Coast and were now exploring new destinations. They were impressed in what the Sunshine Coast had to offer as a M.I.C.E destination and open to utilising DMC services such as ours to ensure the success of their events."
Air New Zealand has released their 2017 dates for the non-stop service between Auckland and the Sunshine Coast. The season will continue to be operated by an A320 aircraft between 7 July and 29 October 2017.
BESC is the convention bureau for the Sunshine Coast and a division of VSC, whose responsibility is to market the Sunshine Coast as a viable, attractive and sustainable business events destination. www.visitsunshinecoast.com/business-events
Image Caption – From left to right: Tiffany Bower (BESC) & Kelly Cattanach (South East Events)