If the last 18 months have taught us anything, it's that a little bit of kindness can go a long way.
 Something as simple as paying a coffee forward can make a huge difference, and it's these moments of sunshine that tourism operators are sharing as part of the Friendship Project.
 September is Friendship Month, and to spread the love, Visit Sunshine Coast is encouraging travellers to nominate a friend known for their random acts of kindness.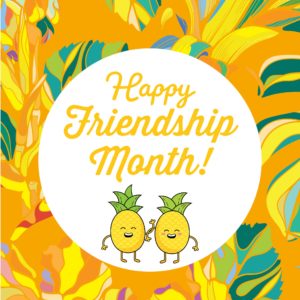 In return, 50 nominees will be selected at random to receive a 'box of sunshine' packed with Sunshine Coast produce including chocolate, fudge, beer and ginger.
 Among those involved is the Sunshine Coast's Ginger Factory, who have their own stories of kindness to share.
 The Ginger Factory Tourism Manager Brenda Bailey said snap lockdowns can often leave large businesses with excess food, but when faced with this situation themselves, The Ginger Factory chose to give back.
 "With the help and support of our local Oz Harvest branch we were able to donate a huge volume of food that was going to waste, we were so grateful to be able to feed people in need," she said.
"It is only through the amazing support of our wonderful local Queensland community that we were able to continue to share the joy and create lasting memories through these difficult times."
Mercure Sunshine Coast Kawana Waters take a similar attitude to paying it forward, with Manager John Örning saying they aimed to leave behind a positive legacy.
"With Sunshine Coast University Hospital our closest neighbour, we have worked closely with their fundraising foundation Wishlist for over six years to offer heart-felt assistance to hospital staff, patients and families when they need it most," he said.
"This comes in many ways but most memorable for us has been free coffee and parking vouchers for hospital staff during Wishlist's Wellness Day, hot meals and sponsored accommodation for families in need with loved ones in hospital."
Up in the Sunshine Coast Hinterland accommodation provider Narrows Escape has their own good news to share, thanks to the support of travellers.
 "We have been overwhelmed this year by the incredible support of our guests in one of the toughest years for the tourism industry," Owner Xochi Lindholm said.
"Our guests have shown their support by coming and staying at Narrows Escape Rainforest Retreat, and the ripple effect of each guest that took a moment to capture and share their experience on TripAdvisor, led to us be voted the number one most romantic hotel in the world by TripAdvisor's Traveller's Choice Award.
"It just goes to show that one little act of kindness and appreciation can mean the world!"
Visit Sunshine Coast CEO Matt Stoeckel said the Friendship Project was simply about spreading some good news in what continues to be a challenging time for many.
"We hope by sharing these uplifting stories and encouraging others to do the same we can bring a touch of sunshine to those who need it," he said.
To nominate your loved ones to receive a random act of kindness, follow Visit Sunshine Coast on Facebook and Instagram or visit the Friendship Month page.