Adelaide: Services between Sunshine Coast and Festival State to resume.
Sunshine Coast Airport is ready to resume services to Adelaide, providing a much-needed boost to the Sunshine Coast tourism industry.
Sunshine Coast Airport Head of Corporate Relations Ayllie White said regular passenger flights between Sunshine Coast and Adelaide would recommence from 1 September, thanks to the Queensland Government's $15 million aviation recovery fund.
"During September, we'll host two Jetstar services per week on Tuesday and Sunday, with that increasing to three a week in October," Ms White said.
"The service will deliver more than 4,300 seats each month, providing locals with the opportunity to visit the Festival State straight from their doorstep.
"With pent up travel demand remaining high, we expect the service will be very popular with local people seeking new horizons such as South Australia's world-renowned wineries.
"We also know that South Australians are craving warmer weather following a long winter, so we expect the early recommencement of the service will inject a much welcomed $4.7 million boost into the local economy."
Visit Sunshine Coast Interim Chief Executive Officer Craig Davidson and Tourism Noosa Chief Executive Officer Melanie Anderson welcomed the return of the route.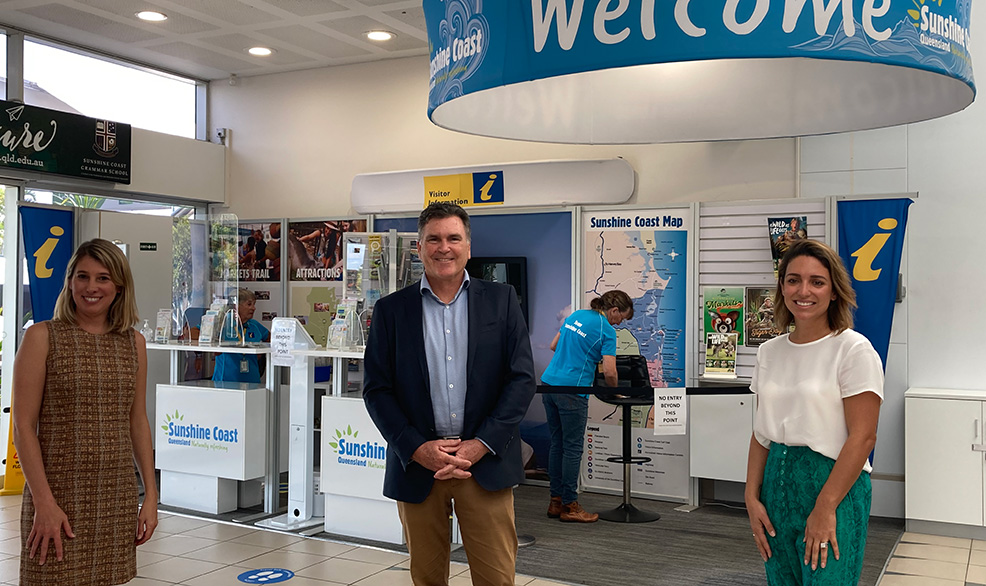 "We are working closely with Sunshine Coast Airport and Tourism Noosa as part of our Aviation Partnership to roll out a targeted marketing campaign in Adelaide to further drive visitation to the Sunshine Coast in line with the resumption of the Jetstar service," Mr Davidson said.
"Reopening the region back up to the Adelaide market is extremely timely and will provide further support for the Sunshine Coast's tourism industry, keeping us moving forward on the path to recovery."
"We were seeing some good traction with South Australian visitors to the region and look forward to welcoming them back," Ms Anderson said.
Ahead of the recommencement of the service, Ms White reminded departing passengers to allow extra time to check in, as changes had been made to ensure COVID-Safe travel.
"We are taking extra precautions to protect against the spread of COVID-19, with our terminal regularly undergoing extra cleaning, and new measures being introduced to limit contact surfaces and dwelling areas," she said.
"We need everyone to play a part in helping stop the spread, so it important to follow the industry-approved guidelines provided before you fly, while travelling through our airport and once on the plane."
via Sunshine Coast Airport