In response to increasing demand for sustainable travel, the Sunshine Coast tourism industry is leading the way.
Visit Sunshine Coast, in partnership with Queensland-based Reforest, TEQ and Sunshine Coast Council, has launched the Sunshine Coast Sustainability Program which invites visitors and the local tourism industry to contribute towards reducing carbon emissions though local reforestation projects.
"Our goal is to make a positive and meaningful contribution towards the sustainability of the Sunshine Coast as a destination. This program reinforces our sustainability credentials and will go a long way in encouraging eco-conscious travellers to visit and make a positive impact to the sustainability of the region," said Visit Sunshine Coast CEO Matt Stoeckel.
He said all members of Visit Sunshine Coast could participate in what is Australia's first destination-wide carbon removal program.
Mr Stoeckel said that while carbon calculators were not a new concept, the idea of a destination banding together on a region-wide sustainability initiative was.
"The new program provides the opportunity for visitors and tourism businesses to easily calculate and remove carbon emissions through the regeneration of local ecosystems," he said.
Reforest co-founder and CEO Daniel Walsh said: "This is all about restoring the local ecosystems that tourism depends upon, and which visitors come to the beautiful Sunshine Coast to see. The program is launching with two native reforestation projects, one in Cooroy and the other in Caloundra."
"In the future we aim to enable a diverse range of projects that are restoring all the important ecosystems of this area, as well as giving visitors the opportunity to have immersive regenerative experiences as part of their stay," he said.
Sunshine Coast tourism businesses, from accommodation providers to coastal cruises and family attractions, who are keen to go green are signing up to reduce their carbon footprint.
What the program includes:
A carbon calculator for visitors to understand their carbon footprint.
Helpful tips and tricks on ways visitors can minimise their footprint.
Local reforestation projects for visitors to remove carbon emissions.
A toolkit for tourism businesses to calculate emissions and identify ways to take positive climate action.
A dashboard where outcomes are displayed and sustainability stories are profiled.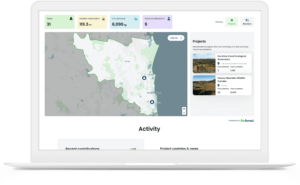 The Sunshine Coast boasts three UNESCO Biospheres sitting side-by-side and planting more trees will also protect this unique Biosphere corridor for generations to come.
Sunshine Coast Council Mayor Mark Jamieson, who is also Sunshine Coast Biosphere Coordinating Committee chair, said the program brought immense shared benefit to the region's economy and environment, encouraging and taking action to reduce carbon emissions.
"Council is proud to provide access to a 4ha location in Caloundra for revegetation as part of the Sustainable Sunshine Coast program, which showcases the potential for local tourism industries and visitors to give back to our Biosphere," Mayor Jamieson said.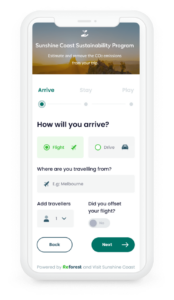 "Since our region's designation as a UNESCO Biosphere in June 2022, partnership opportunities such as these are more important than ever, as we continue our collaborative journey to a more sustainable future across all sectors and communities."
Sunshine Coast Biosphere Community Advisory Group chair Will Shrapnel said everyone could make a positive impact in our Biosphere, including visitors.
"As we bring people here to enjoy our beautiful beaches, hinterland, towns and varied experiences, this program provides a way for them to protect and improve our natural environment and contribute to the legacy of our Biosphere," Mr Shrapnel said.
"It also encourages our tourism operators to help sustain the nature around us that residents love and tourists come to enjoy, which will further attract customers who value these efforts.
"In this way, Biosphere values continue to spread through our sectors and community, all playing a part towards a sustainable Sunshine Coast."