Sunshine Coast welcomes first Melbourne flight as Queensland border reopens
Sunshine Coast Airport has welcomed the arrival of the first plane from Melbourne carrying tourists in more than eight months, as the Queensland border reopened to Victoria and greater Sydney today.
Jetstar flight JQ792 from Melbourne touched down at SCA at 8:20am with Airservices Australia's Aviation Fire Fighting Service honouring the aircraft with a ceremonial water cannon salute upon landing.
Sunshine Coast Airport CEO Andrew Brodie said today's arrival was monumental, and provided tears of joy and relief as families and friends were reunited after eight long months.
"Today is what airports are all about – connecting passengers to the people, places and experiences they love," Mr Brodie said.
"There were heartwarming scenes as grandparents saw grandkids after many long months, friends embraced and Victorians arrived for a well earned break after many months of lock down.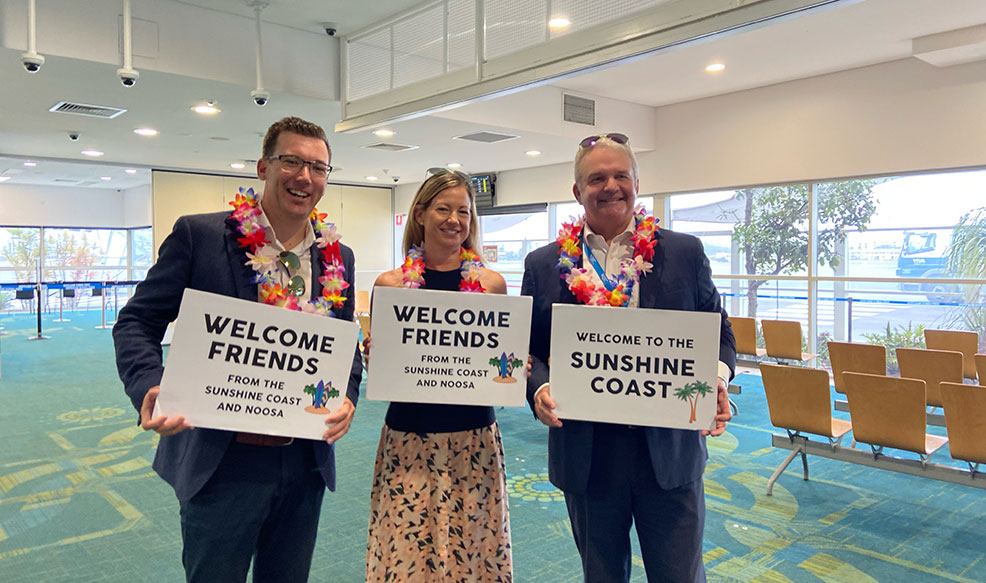 "It is also fantastic to welcome greater Sydney back to the Sunshine Coast, and to see unrestricted movement across the eastern states in time for the Christmas holiday period."
Mr Brodie said the increase in Sydney and Melbourne flights across all three carriers would ensure Christmas was a little brighter for the Sunshine Coast tourism industry.
"With Sydney and Melbourne making up around 90 percent of our passenger numbers, the return of  these services will provide a welcome boost for many businesses that rely on the airport – like car hire companies, accommodation providers and tourism operators," he said.
Visit Sunshine Coast Industry and Membership Development Manager Andrew Fairbairn said it was fantastic to once again welcome travellers from Greater Sydney and Victoria to the Sunshine Coast.
"With the festive season about to start the timing of the border reopening is perfect for both our tourism businesses and visitors to enjoy the summer holidays with family and friends," Mr Fairbairn said.
"Prior to COVID-19, the Sunshine Coast attracted 526,000 visitors from New South Wales including 263,000 visitors from Sydney alone and 415,000 visitors from Victoria.
"These key interstate markets are incredibly important as they often visit mid-week, stay longer and spend more; and beyond the Christmas period, this will be crucial for boosting bookings during those off-peak times.
"This is a major step towards recovery for our region and we are starting to see confidence return to our tourism operators after what has been a challenging year."
Tourism Noosa CEO Melanie Anderson said Victoria and New South Wales were Noosa's two largest source markets for interstate visitation, with Noosa receiving record nights and spend pre-COVID.
"Needless to say, Tourism Noosa and local businesses are thrilled to welcome our southern State friends back," Ms Anderson said.
"The flight announcements couldn't have come at a better time, and we are open and ready to provide our visitors with a wonderful holiday season, celebrating with family and friends".
"NSW and Victoria visitation will remain vital post-holiday season, as generally these markets spend more and stay longer which is imperative to sustain tourism in Noosa."