Reels (and Tiktoks) are a great social media tool to bring your brand to life! Instagram is giving a whole lot of love to video formats and they even have a dedicated button on their homepage to direct you to the reels explore page. By jumping on the reel bandwagon, you are increasing your brands visibility and engagement with your audience.
It may be daunting if you've never made a reel before but fear not! We have put together some tips to help you make an amazing reel!
Clear, steady filming – Avoid shaky hands or poor resolution footage – phone footage is fine! Maybe pick the staff member with the flashiest phone to be in charge of capturing footage! A little tip: take any video through your camera app on your phone not through the Instagram or Tiktok app as this can impact the quality of the footage.
Good lighting! – Try and film your content with good, natural light – if it's rainy and gloomy maybe save filming for another day! Also, take note of where the sunlight is coming in – try and film with the sun behind you – not the sun behind the object you're trying to film!
Go easy on the filters… – Filters can be good to enhance the natural colours in your video but avoid over doing it with filters – keep it bright and vibrant!
Audio – Use trending audio! The little arrow symbol next to the audio on Instagram (shown below) means the audio is trending.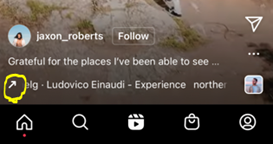 Keep it fun! – Reels & Tiktoks are a great opportunity to bring your brand to life with a bit of humour! Have a scroll through Instagram and Tiktok to pinch some inspiration on how other brands are using these platforms.
#visitsunshinecoast! – Make sure to #visitsunshinecoast so we can look to share your content across our own channels!