The 2016/2017 Visit Sunshine Coast (VSC) Annual Report has been released.
The 2016/2017 Visit Sunshine Coast (VSC) Annual Report has been released with the region achieving a number of records that reflect the commitment, dedication and innovation of the entire Sunshine Coast tourism community.
A record 296,000 international arrivals for the year ending June 2017, up 11.6% and contributing $249 million in visitor expenditure to the economy.
A record 3.4 million domestic arrivals and 12.4 million visitor nights (up 4.4%) on the back of strong increases in the interstate market (up 13.9%) and the Brisbane drive market (up 16%). The record visitor numbers contributed $2.06 billion to the Sunshine Coast economy.
Launch of five new brand pillars and the innovative 'Come to life' marketing campaign.
Sponsorship of the Sunshine Coast Lightning for the 2017 national netball championships with the team securing the Super Netball Grand Final in their first year.
Establishing the region as a leader in food-based tourism, with the launch of an online Food Trail.
Strengthening the Sunshine Coast's potential as a quality destination for major conferences and events, culminating in winning the right to host the Australian Event Awards.
Tactical interstate and international campaigns with airlines and partners was part of a marketing strategy implemented during the year that was aimed at growing business. Resources were also invested into growing our traditional drive market, with dedicated campaigns in Brisbane and intrastate markets, along with a packed events calendar aimed at attracting return travellers.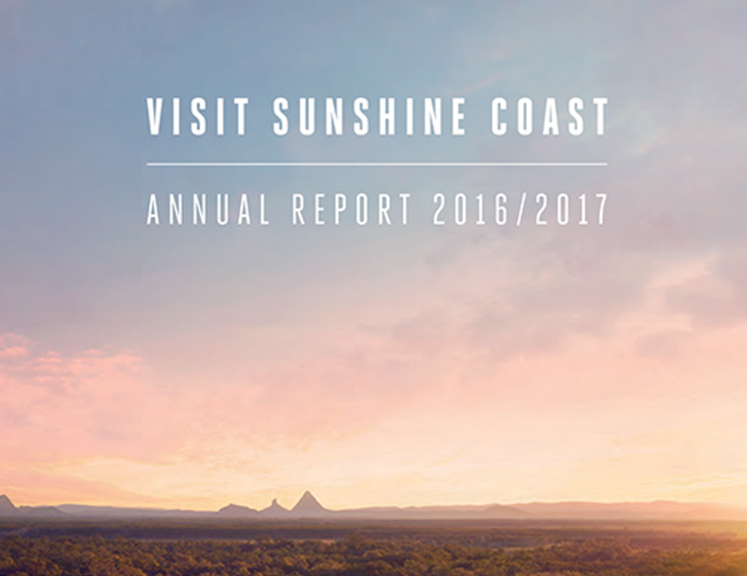 There was also a focus on the cruise market and while weather sometimes impacted arrivals; we saw nine cruise vessels deliver over 40,000 passengers for a 'taste of Sunshine' and culminated in the Sunshine Coast winning the Australian Cruise Conference, further establishing our claim as a dynamic new port for this rapidly growing market.
The domestic and international tourism industry is becoming more competitive. With the resurgence of the Australian dollar (which has appreciated over 13% against the US dollar since 2016), continued economic and political uncertainty globally and in Australia, issues with the Bruce Highway, and the need for major investment in tourism accommodation and convention facilities; we are fully aware of the challenges that we face in the years to come.
As a result, we have built up a highly professional and skilled team at VSC, committed to working closely with our members, our partners, with the outstanding team at Sunshine Coast Council, all the local tourism bodies and the wider tourism community.
The region produced highly successful results in 2016/2017, and I'd like to thank everyone involved for their contribution. We are now well positioned to build on that success.
The VSC Annual General Meeting will be held on 22 November and the 2016/2017 Visit Sunshine Coast Annual Report can be viewed now.