SEO stands for search engine optimization, which helps your page rank higher on Google and other search engines to drive more traffic to your site. Follow these steps to help your business website or piece of content rank higher on Google, Bing etc.
1. Keyword targeting: Keywords are phrases that are commonly searched for on Google, Bing, etc. and they are a crucial part of determining your website's rankings. You need to do your keyword research, use a wide variety of keywords, and fit them in naturally to pages of content. You can use tools like Google Ads to look at search volumes for specific words that relate to your business and incorporate those with high numbers.
2. Publish optimized content regularly: By publishing original content regularly, Google will see your site as a verified authority and serve your pages up in organic search results. Make sure you aren't duplicating words from other pages on your site or other websites to ensure it is original.
3. Create attractive page titles and headlines: A page title and headline are similar, but distinct, ways to name the same website page. The former is a keyword-centric title designed to appease the search engine gods, while the latter is designed to please people who click through to the page. Make sure your page title and headline accurately describe what's on the page to ensure both a good customer experience and make the Google gods happy!
4. Optimize your images: The first step in optimizing your images for the web is to shrink them down to a manageable size. You should keep each image under a megabyte in size; even smaller if you have an image-heavy page. Resizing images to a maximum 1920 by 1080-pixel resolution and using the JPG or WEBP formats will help your pages quickly load. Search engines do not like slow-loading sites. Make sure that your images have proper Alt attributes, too. Google, for example, can't actually see the images that you upload to your site, but Alt attributes help the search giant categorize your photos. Alt attributes should be a description of the image, but not too long. Aim for around 125 characters, max.
5. Meta data: The meta description is the first section that people see when Google serves up your page to search users. You add this in the back end of your website when creating new pages and blogs.
Example content optimized for SEO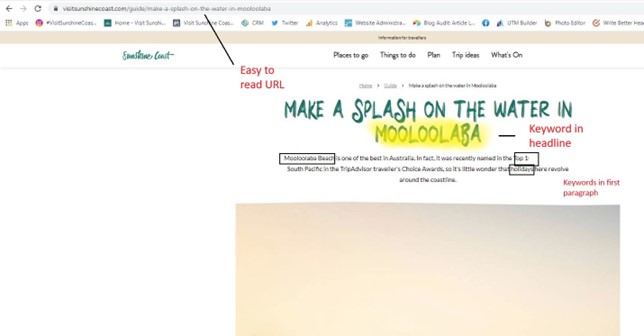 6. Backlinks: This is when another website links back to yours. Not only does this help you gain what is known as domain authority, but it also directly improves the chances of people clicking through to your website if it appears on other reliable domains. Work with related business to share links to each other's site (like VSC for example!)
7. Technical SEO: Whether its ensuring site speeds are quick, removing 'toxic' backlinks (links to websites that are deemed irrelevant or untrustworthy etc.), all of these technical SEO tips can be huge when it comes to securing those higher rankings. You don't want anything to get in the way of SEO doing its job, which is allowing for people to find your website organically.
8. Website speed: According to Google's market research, 53 percent of mobile audiences leave a site if it takes more than three seconds to load. This means you want to make sure your site is faster than that! Ways to improve site speed are to remove super large images, remove unnecessary plugins. Check your site's speed using Google Page Speed Insights.
9. Internal linking: You want to link related articles to drive customers deeper into your site. Generally, you want to link to anchor text, the words that visitors click to move from one page to another. Internal links should be natural and sparingly used. A paragraph that's nothing but links isn't very readable, so search engines will dismiss it.
10. Use descriptive URLs: A clean URL can help search engines understand your page and gives you a more user-friendly appearance. Use keywords, make sure it is readable and be concise – URLs less than 60 characters are preferable. An example of an easy-to-read URL is this: https://www.visitsunshinecoast.com/guide/5-of-the-best-beachside-stays-on-the-sunshine-coast
Here is an example that search engines won't be able to read: https://www.visitsunshinecoast.com/article/272531