A delegation of 12 Sunshine Coast tourism operators has just completed a trade mission through New Zealand staging a series of roadshows in Auckland, Wellington and Christchurch. Organised by Visit Sunshine Coast (VSC), the mission attendees conducted training and product seminars with leading wholesalers and retail travel chains.
With a combination of veteran mission goers such as Aussie World's Wayne Poole to first timers like Bonnie Lowes from the Ginger Factory, across the board, the operators enjoyed strong interest and turnouts during the weeklong trade mission.
"With the Sunshine Coast reporting up to double the national growth figures in both visitor arrivals and length of stay, keeping the proposition fresh and showing that there is more than 'sunshine and coast' on offer to kiwi visitors is an imperative," says Visit Sunshine Coast CEO, Simon Latchford.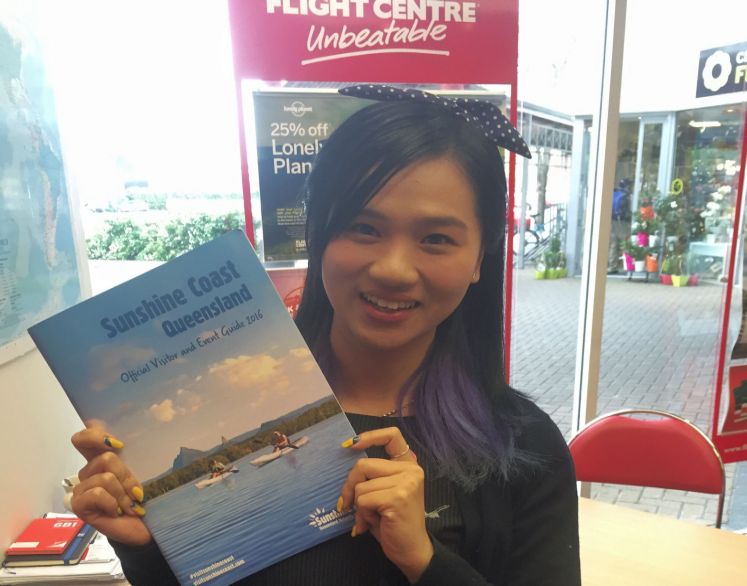 "New Zealand remains the number one market for the Sunshine Coast with kiwis lured by their love of nature, food, an amazing coastline and pristine beaches, and of course the golden weather! But what these operators aimed to share with industry during their trade was that there is so much more."
Sunreef Mooloolaba's Katie Hart wowed agents with her first hand account of this year's whale watching season where the region enjoyed an unprecedented visitation of around 33,500 whales. Katie said that the on and underwater experiences offered by Sunreef resonated strongly with kiwis and she was already receiving agent enquiries via email before she had left New Zealand!
Newcomer Heatley Gilmore from Rainbow Beach Getaway Apartments shared one of the region's many hidden treasures and in doing so believes he and Destination Gympie Region tourism manager, Andrew Saunders have launched an altogether new and highly desirable destination offering to New Zealanders in the Rainbow Beach experience.
Heatley reported agents being both surprised and excited by the flexibility of the destination and the options it presented to combine a range of additional great nature experiences, such as exploring Fraser Island as a day trip from Rainbow Beach.
Industry expert, Wayne Poole representing the Sunshine Coast's top rating theme park, Aussie World said that his product's new brand was being very well received by kiwis which is reflected in the double-digit growth being enjoyed by Aussie World in the 2016 season. He acknowledged that Trip Advisor was a strong barometer for kiwis and so leveraged Aussie World's excellent rankings as a credible advocate for his product which agents said was becoming increasingly important as "kiwis voted with their clicks."
Tourism Noosa's Vynka Hutton said that whilst Noosa is very well known with kiwis, again the "more" factor was little known. Vynka cited the Noosa Everglades experience as being a real eye opener for the agents she met with and despite its close proximity to the heart of Noosa offered a diverse and spectacular natural experience that few realised was within such easy reach. With Noosa being so popular with kiwis and having such a high repeat visitor rate, the trick now says Vynka is encouraging our kiwi visitors to explore more of the region and delve a little deeper to uncover Noosa's hidden food and nature gems along with inspired events and festivals.
VSC's Simon Latchford added, "the RTO will continue to connect its exceptional industry experiences and products with key markets such as New Zealand is through missions and co-op campaigns to keep the kiwis coming back for more…especially when there is so much more!"
A quiz prize was drawn from the entries of all agents who attended the roadshow series across Auckland, Wellington and Christchurch. The 'travel expert' was awarded to Fiona Luo from South City Flight Centre in Christchurch.
Fiona and a friend can now plan their own dream Sunshine Coast holiday thanks to Air New Zealand and visiting operators and experiences; Visit Sunshine Coast, Tourism Noosa, Aussie World, Destination Gympie Region, Rainbow Beach Getaway Apartments, Accom Noosa, Newport Moooloolaba, Sunreef Moooloolaba, Ginger Factory, Australia Zoo, Dreamtime Resorts, Noosa Blue Resort and Noosa Lakes Resort and Noosa Residences.