Queensland's Sunshine Coast has launched a new campaign with leading travel platform Expedia Group under the Wotif booking site to encourage travellers to visit the region.
  The campaign targets the interstate markets of New South Wales and Victoria as well as Southeast Queensland and offers special deals for accommodation.
Visit Sunshine Coast CEO Matt Stoeckel said after a bumper summer holidays, the campaign was aimed at generating bookings for the destination's shoulder period over the next few months.
"With compelling Sunshine Coast accommodation offerings listed via Wotif.com, this exciting campaign will provide hot deals for holidaymakers to book their next break on the Sunshine Coast," he said.
"Our summer holiday period was very popular with families, and now with schools back its time to switch gears and target those visitors with propensity to travel to the Sunshine Coast outside of the school holidays in February and March. This campaign will go a long way to put more heads on beds during this shoulder period."an extension of our 'Find your Sunshine Moment' campaign which highlights here on the Sunshine Coast we're both sunny by name and sunny by nature. We invite visitors to come here and find their Sunshine Moment that will leave them beaming from the inside out," he said.

"The campaign is also 
The campaign aligns with Australia's newest airline Bonza going on sale. Based at the Sunshine Coast, it is set to become one of Australia's most connected regions with 11 destinations now available and a total of 13 destinations planned, (10 of which are new for the airport).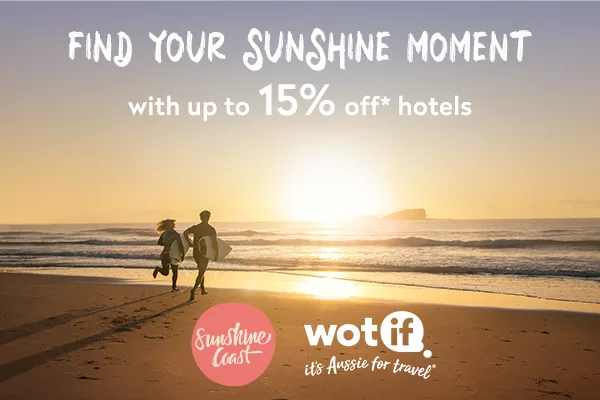 Expedia Group Media Solutions SVP Rob Torres said the campaign was cleverly designed to help fill vacancies by tapping into the current traveller mindset.
"Our most recent Expedia Group Traveller Value Index showed that people value travel more than ever and will continue to make time and save money for it. In fact, 43% of Australian travellers say it is more important now that it was pre-pandemic," Mr. Torres said.
"Importantly though, faced with inflation rises, the same research showed price sensitivity return to the top three considerations that are influencing travel decisions."
"Campaigns like this can-do wonders for regions wanting to bolster visitation during low periods because price sensitivity doesn't mean consumers are always hunting for the cheapest rate, rather it's about the value and getting their money's worth," he said.
The Wotif campaign is running from now until late February.
A selection of participating properties is offering accommodation savings and include:
10% off at Oaks Oasis Sunshine Coast Resort, Caloundra
15% off at RACV Noosa Resort, Noosa Heads
15% off at Beach Road Holiday Homes, Noosa North Shore
20% off at Pelican Waters Resort, Pelican Waters
Visit the website https://visitsc.au/expedia and see deals here.