Sunshine Coast Council is excited to be a part of a new Jobs Now campaign aimed at promoting the vacancies available in the tourism and hospitality industry.
Council is partnering with Visit Sunshine Coast, HOT 91, TAFE Queensland and the local tourism and hospitality industry to shine a spotlight on the available job opportunities and career pathways.
The campaign – generated in response to industry feedback – will promote the immediate opportunities for the local workforce to fill tourism and hospitality vacancies on offer in the lead up to the busy festive period during December and January.
The initiative invites local businesses to advertise their job vacancies for FREE via www.jobsnow.net.au. Job seekers can search the latest jobs and connect to upskilling opportunities delivered by TAFE Queensland.
Sunshine Coast Council Mayor Mark Jamieson said the organisations partnering on this initiative are on a mission to fill diverse, fun and rewarding vacancies in the tourism and hospitality industry to ensure the region is well placed to provide memorable experiences for the visitors that are expected as part of the domestic tourism influx.
"The tourism industry is critically important to the Sunshine Coast economy and following a very difficult year, we are very pleased to see that our local tourism businesses are expecting strong visitor numbers over the coming months," Mayor Jamieson said.
"However, local operators are also telling us that they need more staff to help service these visitors and our residents – with everything from chefs, wait and bar staff, housekeepers and baristas through to management roles needing to be filled.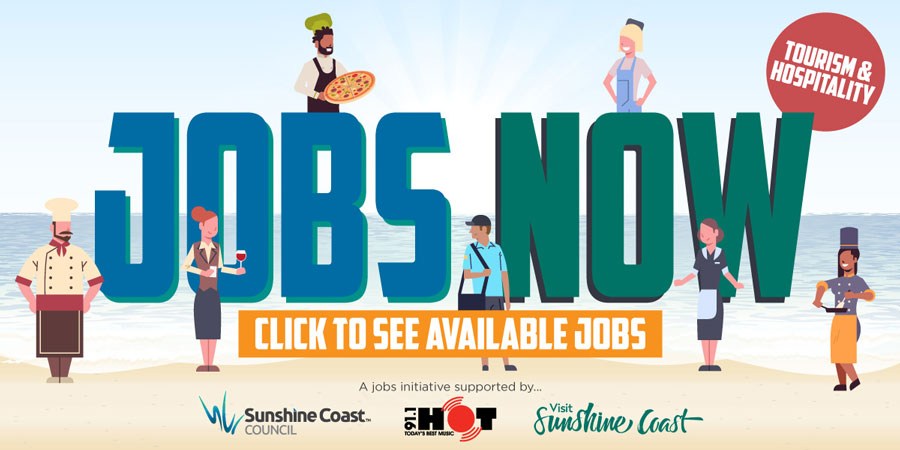 "There are job vacancies advertised right now on Jobsnow.net.au and we want to connect job seekers with potential employers and point people in the right direction, should they wish to upskill with additional industry qualifications.
"This also promotes opportunities to those who may not have previously thought of entering this industry and we aim to improve the current hospitality skills shortage on the Sunshine Coast."
Visit Sunshine Coast Industry and Development Manager Andrew Fairbairn said the Jobs Now initiative supported businesses as they prepared for what is expected to be a busy festive season.
"The summer holiday period has traditionally been a bumper time for Sunshine Coast tourism operators and hospitality providers and with Queensland borders now reopened to our southern states, our forward bookings are looking extremely positive," he said.
"The return of our key domestic markets has helped restore confidence amongst the local tourism industry, and this extra support through the Jobs Now initiative is a timely and welcome boost as businesses look to take on extra staff to accommodate the influx of visitors.
"Jobs Now is a positive step on the path towards recovery for our industry, and we are extremely proud to partner with Sunshine Coast Council and Hot 91 on this initiative."
For those new to tourism and hospitality there is a workshop designed specifically for those people who want to upskill and be ready to enter the workforce.
TAFE Queensland General Manager (East Coast Region) Ana Rodger said as the state's largest and most experienced training provider, TAFE Queensland was committed to providing locals with the quality, hands-on training they needed to succeed in their chosen career, while fulfilling the skills demands of the community.
"TAFE Queensland works closely with local businesses to ensure our programs are tailored to their needs and our students graduate confident, capable and ready to help drive the success of their industry."
"TAFE Queensland is proud to support the Sunshine Coast Council and Visit Sunshine Coast Jobs Now initiative by offering a three-day hospitality skills workshop that will provide participants with skills in customer service, food handling, and coffee making, as well as the qualification 'Provide Responsible Service of Alcohol'.
"Local residents who complete this three-day workshop will leave with a specifically designed skill set that will help them stand out from the crowd when looking for employment within the hospitality industry, and allow them to confidently hit the ground running in the workplace once they secure employment.
"The hospitality industry offers plenty of amazing opportunities for workers, and with this workshop, TAFE Queensland is aiming to help jobseekers not only gain jobs now, but rewarding careers in the future."
Employers and jobseekers should register online at www.jobsnow.net.au