It's official, Aquaduck is set to splash into the beautiful waters of Mooloolaba on the Sunshine Coast this December.
The amphibious Aquaduck has been operating on the Gold Coast since 1996 and has now expanded operations to include a Sunshine Coast location. The Duck has ventured north and will be offering 1hr sightseeing tours exploring the Mooloolaba streets and the Mooloolah River.
Aquaduck is family friendly and suitable for ages from babies to centurions! The tour drives along the Esplanade overlooking the stunning Mooloolaba Beach and Sunshine Strip then splashes in for a cruise through the canals and waterways. This tour offers a perfect mix between beautiful natural landscapes, wildlife and waterways with the homes and mega mansions of the super-rich and famous.
So many great photo opportunities along the tour including
Point Cartwright
Fish Market and Trawlers
Mooloolah River and wildlife
Minyama area
Canals and waterways lined with mega mansions
Sarah Colgate, Managing Director, pictured here explains how Aquaduck's arrival into the Sunshine Coast came about.
"Since late last year we have been looking for an additional location to operate Aquaduck. The COVID lockdown period gave us the opportunity to do a lot of research and really look into the destinations that would best fit our product, market and brand.
The Sunshine Coast was a clear winner with its naturally beautiful beaches, waterways and holiday feel. We couldn't go past it. The destination is very popular with young families, couples and extended families so it worked well with our markets too."
Onboard, the tour guide and Aquaduck Captain share stories featuring the history of the region including those from the original owners, beach culture, local produce, wildlife and much more for guests to love.
It also offers a new and unique product for both locals and visitors to enjoy, and Aquaduck management looks forward to working alongside local businesses, council and Visit Sunshine Coast tourism organisation to enrich the tourism product offering of the region.
"When we approached the Sunshine Coast Council and Visit Sunshine Coast they were welcoming and extremely supportive. We are really looking forward to offering Sunshine Coast visitors and locals Aquaduck's fun, informative and family friendly experience coupled with the Sunshine Coast's natural beauty." Colgate explained.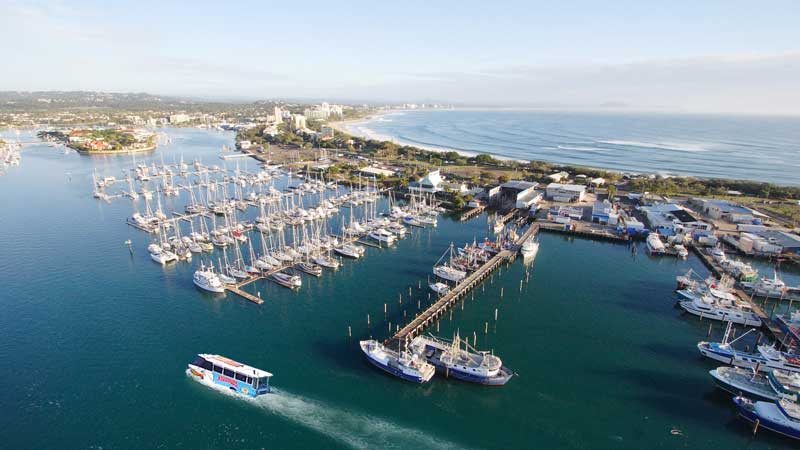 Aquaduck Tour Information
The Aquaduck will be splashing down on the Sunshine Coast from 10th December 2020.
The ducks one-hour Aquaduck tour will depart Wednesday to Sunday at 10.30 am, 1 pm and 3.30 pm increasing to 5 tours operating 7 days per week during Queensland school holiday periods.
Tours depart from the tourist bus stop in The Wharf car park, adjacent to SEALIFE Sunshine Coast. Parkyn Parade, Mooloolaba.
Aquaduck Sunshine Coast tickets and bookings
Book your tickets online for this fantastic land and water tour on Sunshine Coast with Aquaduck at www.aquaduck.com.au or by phoning
07 5539 0222.
Tours tickets are
• Adults $40
• Children $30
• Family, senior and student discounts are available.
Please do not hesitate to contact our Gold Coast head office with any queries on 07 5539 0222 or email [email protected]