The first of Jetstar's new Adelaide to Sunshine Coast flights touched down this morning at Sunshine Coast Airport providing welcome warmth and sun for a planeload of waterlogged Adelaide residents.
Passengers were greeted by characters from Aussie World, Sea Life Mooloolaba, The Ginger Factory, Big Kart Track and Australia Zoo, as well as receiving a welcome goodie bag from Visit Sunshine Coast Visitor Information Centre volunteers to get their Sunshine Coast stay off to a fantastic start.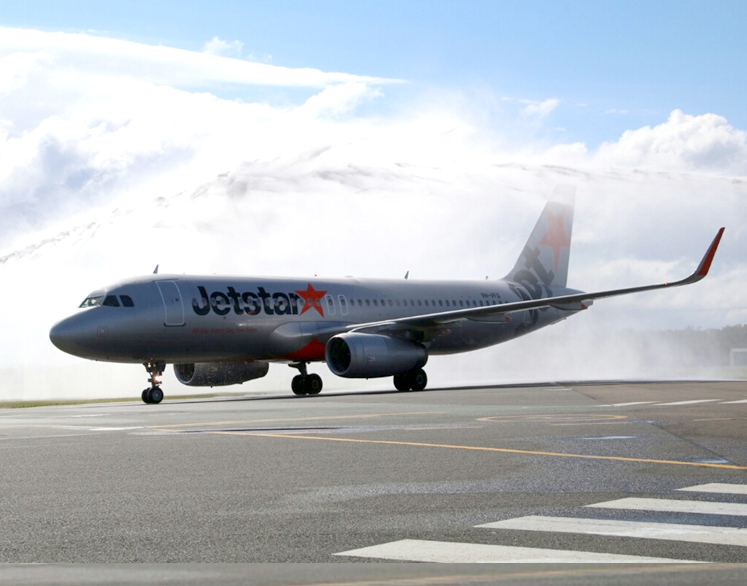 Visit Sunshine Coast CEO Simon Latchford said the direct flights were a result of a partnership between TEQ, SATC, Jetstar, Sunshine Coast Airport and Visit Sunshine Coast, and were perfectly timed to capture a South Australian market that had just experienced one of its wettest periods on record.
"We feel really sorry for all of the people of South Australia who've suffered from the recent storms and floods, and it wasn't surprising that the passengers arriving this morning were so thrilled to see the sunshine," Mr Latchford said.
"This has been a great partnership deal and builds on our successful direct services from Sydney, Melbourne and Auckland.
"The trip is now easier for South Australians with the direct service taking just over two hours and getting into the Sunshine Coast early in the morning – giving them a full day in the sunshine.
"With the diversity our destination offers, we are confident we can offer South Australians a truly inspiring holiday experience."
Jetstar Group Chief Commercial Officer Catriona Larritt said demand for the new Adelaide-Sunshine Coast flights has been strong, particularly as the services take off in school holidays.
"Our customers love visiting the Sunshine Coast, so we're excited to now offer direct connections from three interstate capitals with the launch of our Adelaide flights today, in addition to our popular Sydney and Melbourne services," Ms Larritt said.
"We now offer three times more flights into the Sunshine Coast than any other airline and we're proud to support local travellers and tourism with another direct, low fares route."
Services between Adelaide and the Sunshine Coast will operate on Wednesday, Friday and Sunday each week.
Schedule on Friday 30 September
JQ800        Adelaide – Sunshine Coast          Dep: 6.00am, Arr: 8.50am
JQ 801        Sunshine Coast – Adelaide         Dep: 9.20am; Arr: 11.35am
Schedule from Sunday 2 October
(Daylight savings comes into affect in SA from 2am on Sunday 2 October)
JQ800        Adelaide – Sunshine Coast        Dep: 6.00am, Arr: 7.50am
JQ 801        Sunshine Coast – Adelaide        Dep: 8.20am; Arr: 11.35am